LinkedIn Headshots
I have opted not to display my face on LinkedIn. Instead I have uploaded the user avatar generated from my Github profile. I use this avatar across my online accounts.
Refusing to post a picture of my face hurts my employability prospects on LinkedIn significantly. For now, that is a price I am willing to pay (but we will see what happens as my financial situation gets more dire).
My reluctance to give LinkedIn my headshot is not complicated:
I worry about discrimination.
I value my privacy more than LinkedIn does.
I do not trust LinkedIn as an organization.
I hope employers will still consider me despite me not including a headshot, but I guess we will see.
If you want to read WAY too many words elaborating on my concerns, keep reading.
Discrimination
In Canada, our social convention is to exclude photographs from resumes. There are several criteria under which it is (in principle) illegal to discriminate when hiring, including age, sex, and ethnic origin. Conventionally, we also refrain from mentioning religious affiliation and family status on our resumes. I feel these are good social conventions.
LinkedIn has become the modern resume, and it wants to undo that convention. It would be precious of me to suggest that people could not infer my age, sex, etc. from my LinkedIn profile without a headshot, but a headshot would reveal these things immediately, and allow employers to discriminate against me much more efficiently. Faces are different from textual information. Our brains are highly tuned to facial recognition. We make judgements based on faces very very quickly.
I recognise that I am unlikely to be the a primary target of dicrimination based upon my face. I am not pretty, but I have pale skin and look like a stereotypical UNIX greybeard, which might be an advantage when looking for systems administrations jobs. Having said that, I am overweight bordering on obese, have bad skin, and my UNIX greybeard is in fact grey. I am acutely aware of how much age discrimination (disguised as "cultural fit") there is in my field. Nonetheless I think that with some effort I could get a (largely misleading) picture that would be socially acceptable on LinkedIn.
Not everybody has it as easy as I do. Many people from my ancestral subcontinent have much darker skin. Some people have facial deformities or birthmarks. Some have asymmetries in their faces that others find offputting. In principle hiring managers are supposed to ignore these things. Do they? Does including a facial picture make it more or less likely that discrimination will occur? And does abstaining from including a headshot imply that these people have something to hide?
I should tread carefully here. There are people with facial deformities who are unashamed of putting their faces on LinkedIn. More power to them. However, I suspect such people have to deal with more than their fair share of systematic (if subconscious) bias. Should we not have the option of waiting until employers know more about us as people before judging us based on our faces?
Privacy
This is not just about LinkedIn. I cannot avoid being surveilled, but to the extent that it is feasible I try to limit my picture being on the Internet. I have no interest in providing my image for facial recognition algorithms to scrape up. I am convinced that one day somebody is going to figure out how to use all this information from our data trails in a very upsetting way. There is too much venture capital money at stake for this not to happen.
LinkedIn demands that I use my real name and list my real employment history on its site. Fine. But I want to limit that information to what is relevant to LinkedIn, and my face is not included in that. Maybe a potential employer has the right to know what I look like (... maybe), but LinkedIn need not be a middleman to that; my prospective employer and I simply need to meet face to face.
Trust
In my opinion LinkedIn has engaged unethical behaviour in the past. We all remember being bombarded by irritating invitation emails. Furthermore even smart people ended up bombarding their contact lists with those emails, even though LinkedIn insists that these bombardments were only done with the consent of the user, even though it was clear that many users did not understand the implications of giving that consent. I have griped about LinkedIn's ethics in the past. To what extent should I now trust LinkedIn with my data? Let's look at their terms of service and find out.
Whenever I upload information to LinkedIn, I am giving them permission to use that information broadly. From their user agreement:
As between you and LinkedIn, you own the content and information that you submit or post to the Services, and you are only granting LinkedIn and our affiliates the following non-exclusive license:

A worldwide, transferable and sublicensable right to use, copy, modify, distribute, publish, and process, information and content that you provide through our Services and the services of others, without any further consent, notice and/or compensation to you or others.
They then put some constraints on these uses, including the following:
We will not include your content in advertisements for the products and services of third parties to others without your separate consent (including sponsored content). However, we have the right, without payment to you or others, to serve ads near your content and information, and your social actions may be visible and included with ads, as noted in the Privacy Policy.
Notice the weasel words here. They won't include my headshot directly in an advertisement, but they are free to have an advertisement and then say "Paul has liked this company" right below it.
Also notice the terminology of "to others". LinkedIn already inserts my profile picture in advertisements it shows to me, in so-called "Dynamic Ads":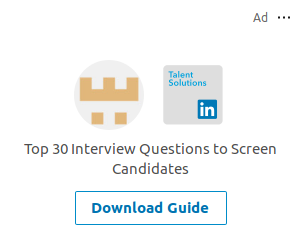 This is not accidental. In their marketing for Dynamic Ads LinkedIn writes:
Capture attention with personalized ads featuring each professional's own LinkedIn profile data, like photo, company name, job title, and more.
Faces are powerful psychologically. I do not consent to my image being used in this manner, so I do not provide my picture.
LinkedIn now wants me to believe that if I close my account then my data will go away:
You can end this license for specific content by deleting such content from the Services, or generally by closing your account, except (a) to the extent you shared it with others as part of the Service and they copied, re-shared it or stored it and (b) for the reasonable time it takes to remove from backup and other systems.
but this is not really true, because LinkedIn feeds my data into machine learning algorithms, and aggregates it for its profit:
We use your data to produce and share aggregated insights that do not identify you. ... . For example we may use your data to generate statistics about our members, their profession or industry, to calculate ad impressions served or clicked on, or to publish visitor demographics for a Service or demographic workforce insights.
"your data" is a pop-up that reads:
including inferences drawn from data about you such as your age or gender
When they aggregate my data and I quit the service, do they scrub this aggregated data from their servers? Do they retrain their learning algorithms without my data? I do not know for sure, but I doubt it.
I also do not trust that LinkedIn will not change these terms of service as soon as it is convenient for them to do so, and I find tracking the changes these companies make to their terms of service difficult (it is not as if they publish proper diffs in git repos). Maybe you trust LinkedIn a lot more, and trust that its policies will move towards greater privacy and not less. We shall see. LinkedIn has burned me too many times (through silent data breaches, through irritating popups, through deceptive email practices, through bad security practices) for me to trust it much.
Power
This is related to trust, but deserves its own section. LinkedIn is effectively a monopoly. When I go to job search meetings I am told that having an up to date LinkedIn profile is mandatory. No other alternative social networks are offered as alternatives.
This is important. As a monopoly LinkedIn can do what it wants, because people don't have another place to go if they want the services LinkedIn offers. This is a big deal to me. Of the modern tech giants, only Facebook has a comparable impact on my life. I have chosen to avoid Facebook, but that means I have no social life. Shutting down my LinkedIn account means I potentially have no employmemt. The only thing more detrimental to my employability is my decision not to own a cellphone.
LinkedIn's relationship to its customers are entirely one-sided. LinkedIn can send deceptive invitation emails to your address book, but their user agreement prohibits you from impersonatng others the way they impersonated you:
You agree that you will not:

Create a false identity on LinkedIn, misrepresent your identity, create a Member profile for anyone other than yourself (a real person), or use or attempt to use another's account;
Furthermore, the LinkedIn privacy policy is effectively non-binding, because the maximum liability you can extract from them is $1000:
TO THE EXTENT PERMITTED UNDER LAW (AND UNLESS LINKEDIN HAS ENTERED INTO A SEPARATE WRITTEN AGREEMENT THAT OVERRIDES THIS CONTRACT), LINKEDIN AND ITS AFFILIATES (AND THOSE THAT LINKEDIN WORKS WITH TO PROVIDE THE SERVICES) SHALL NOT BE LIABLE TO YOU OR OTHERS FOR ANY INDIRECT, INCIDENTAL, SPECIAL, CONSEQUENTIAL OR PUNITIVE DAMAGES, OR ANY LOSS OF DATA, OPPORTUNITIES, REPUTATION, PROFITS OR REVENUES, RELATED TO THE SERVICES (E.G. OFFENSIVE OR DEFAMATORY STATEMENTS, DOWN TIME OR LOSS, USE OF, OR CHANGES TO, YOUR INFORMATION OR CONTENT).

IN NO EVENT SHALL THE LIABILITY OF LINKEDIN AND ITS AFFILIATES (AND THOSE THAT LINKEDIN WORKS WITH TO PROVIDE THE SERVICES) EXCEED, IN THE AGGREGATE FOR ALL CLAIMS, AN AMOUNT THAT IS THE LESSER OF (A) FIVE TIMES THE MOST RECENT MONTHLY OR YEARLY FEE THAT YOU PAID FOR A PREMIUM SERVICE, IF ANY, OR (B) US $1000.
This is typical of Silicon Valley startups, but it is an unfair playing field. I feel uncomfortable providing any more information to LinkedIn than necessary.
As an old Linux-head some people might presume that I mistrust LinkedIn because it is now owned by Microsoft. It is true that I am unhappy that Microsoft gets to decide whether or not I am employable. However, Microsoft has improved a lot since it lost its monopoly. It cares more about security and has to compete for market share on its merits now. I feel LinkedIn is more likely to behave ethically under Microsoft's ownership than it did before, but I do not think it will be that ethical.
Odds and Sods
There are two other things I would like to note. The first is that LinkedIn acknowledges that most of us provide information on its platform that can be used to discriminate against us, and it does not care:
We do not require members to include sensitive data (e.g., race, ethnicity, political opinions, religious or philosophical beliefs, membership of a trade union, physical or mental health, sexual life or criminal record) in their LinkedIn profile. If you choose to post any such data to your profile, understand that it is visible to others as noted above.
They say they do not require these things, but that if we include them then it is our fault. Furthermore, not including these kinds of data does not prohibit LinkedIn from inferring these attributes from your profile and your social connections, as noted above.
Secondly, in choosing to upload a consistent avatar rather than leaving my profile picture blank, I may be breaking the rules:
When choosing a profile picture, you may not use an image that is not your likeness or a head-shot photo for your profile.
Fair enough. LinkedIn can remove my avatar if it wants. I would argue that this avatar is a consistent identity I use across several products, and as such it is my "likeness", but this will not hold up in court.
Conclusion
Look. I am not as naive as I sound. I am fully aware that I am tilting at windmills here, and that I am hurting nobody but myself. If you are not all-in on what LinkedIn wants you might as well not participate at all.
We are caught in a wave of technological determinism -- the idea that we do not have choices about how technology moves or what happens to us. We all know that the robots are coming for our jobs, and we feel there is nothing we can do to stop it. I feel as helpless as anybody else, but the one thing I can do is withdraw my consent.
To employers: I have probably dug myself into a deeper hole by writing this piece. That is unfortunate. Nonetheless I am a capable worker, and you might consider hiring me even though I am unorthodox.